The Bra That "Pays" You To Wear It
"All The Time, Money And Headache Of Shopping Around I Saved Is Unbelievable"
3-Pack On Sale For Only $39.95 This 4th Of July, With Very Limited Supply
A year and a half later, it feels like my momma's shop bras paid me
Of course they didn't actually pay me.. and I did have to buy them, but looking back at it, it's like I won the lottery.
Let me explain..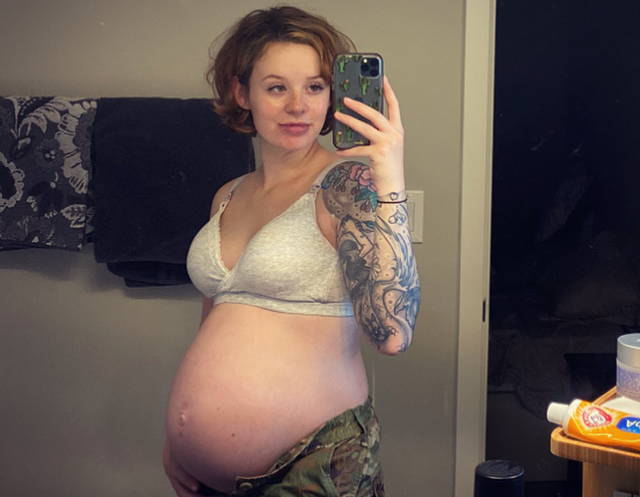 I Ordered My Pre-Pregnancy Size, Because Apparently They"Grow With You"
Before ordering from momma's shop, I wasn't sure what size to order. But can you blame me? There's so much confusion surrounding maternity bras!
I mean, just a week before I went to the mall and tried a bunch of bras on. All of which either fit horribly (even though "they were my size"), looked like something my grandma would wear, or were wayyyy too expensive.
So I'm sure you can imagine how worried I was about getting a bra online. But after searching the website a bit, I figured I'd grab my pre-pregnancy size as the bra apparently "grows with you". Which I'd never seen before, but was willing to take a chance on.
If I remember correctly, the package arrived within 4 days of placing my order and along with it I got an email asking if I liked the bras and if there were any issues with them.
Which (& I'm sorry to say) there definitely were ..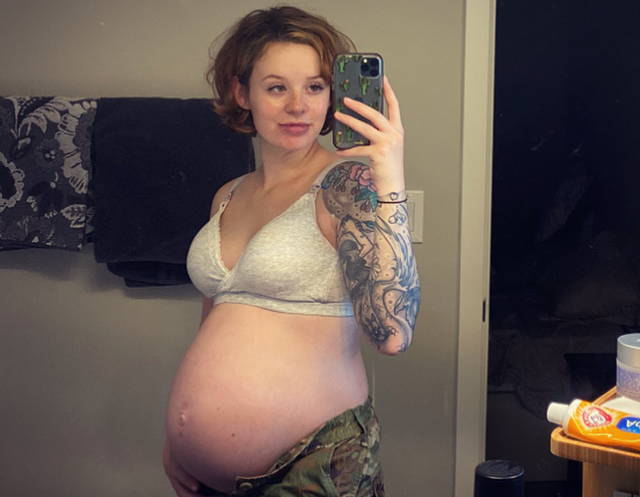 I Used To Love Peeling My Bra Off, But Now I Don't Wanna Take It Off!
I liked the bras TOO much! Like you know that fantastic feeling you get when peeling your bra off at the end of the day, and your skin finally feels like it can breathe again?
Yeah, well these bras took that away from me! I felt so freaking fantastic throughout the day that I no longer looked forward to taking my bra off.
Thanks for ruining a beautiful thing… Haha I joke. But seriously, the comfort these give you throughout the day is like nothing I've experienced before.
The first thing I noticed was the silky smooth inner cups - they felt divine! And the rest of the bra? It was softer than any warm, fuzzy blanket I've ever wrapped myself in.
On top of that, the support they gave me was fan-freakin-tastic.. It made me feel really secure and held my girls up just as good (if not better) than any underwire bra I've had.
And since they're underwire free, there wasn't any discomfort or restriction, even with all the support I was getting.
Naturally, I walked up to my mirror and it just got better and better.. boy did I feel good! The cute lace detail mixed with everything else made me feel really sexy and pretty.
Overall the bras felt very soft and stretchy, yet they still felt durable. And most noticeable of all, they felt high quality - similar to something you'd find in bras double the price.
Here's everything I loved (& still love) about them:
Straps are thick but not uncomfortable

The colors are too cute!

It's got 4 clips and is wide in the back and sides to give lots of support without any underwire or squeezing & discomfort

No issues under a T-shirt, or any shirt. Even if you leak nothing shows through

It has clips that are super easy to use for nursing

They're great for nighttime use, daytime use and even exercise like jogging, yoga, etc.

They fit so freaking well and the cups keep their shape
Ok so basically they were fantastic, but fast forward a couple months and this is where the actual magic happens...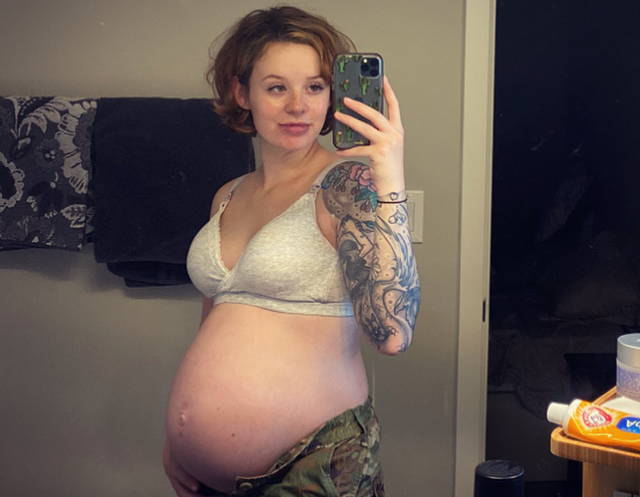 They Fit Me Like A GLOVE! Almost As If They're Made Specifically For My Body
I would easily trade all the other cool features and amazing deal (more like steal) on these amazing bras for this one feature:

About 4 months into my pregnancy, I decided I'd try my old bra on (the bra I was wearing right before my momma's shop bras). My girls grew and I was curious to see how I'd look.
And as I put the old bra on, something felt VERY different..
The bra felt much tighter than I remember and as I looked in the mirror I saw something I'd never seen before.
My boobs were SPILLING out of the old bra.. Over the top and around the sides, which is not too surprising considering I went from a 34C to a 36DD
But the crazy part is, my momma's shop bras fit exactly the same at a 36DD as they did at a 34C.. And both times they fit me PERFECTLY!
Let me say it again: My momma's shop bra fit PERFECTLY when my boobs were a 34C, and it fit PERFECTLY when my boobs were a 36DD.. It literally fit like a glove the entire time and never lacked support.
I mean, when I heard that the bras "grow with you", I thought MAYBE I'd have a bit of stretch in the band or whatever for them to hopefully fit decently.
But no, they fit me PERFECTLY! Like they were specifically made for my growing body.
After realizing just how adaptable the momma's shop bras are, I decided to compare them to my old bra every couple weeks, or whenever I'd notice a change in my body.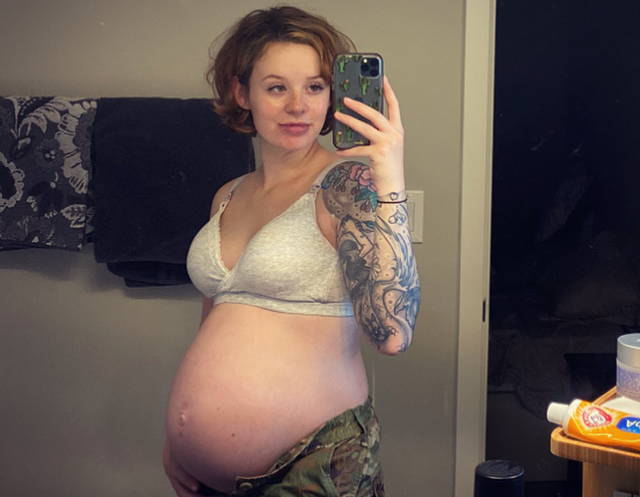 They're More Durable Than My $60 Bras, Yet Soooo Soft!
Fast forward a few days before delivery - when my boobs were their biggest - and my old bra looked like it was made for a doll (ok maybe it wasn't THAT bad, but it was bad), whereas my momma's shop bra fit the same it did when I first bought it - perfectly, without any restriction and a bunch of support.
And then a couple months later, when I was at my smallest while nursing (back to a 34C), my momma's shop bras fit me just as well as when I first got 'em!
Which reminds me.. the nursing clips? They're SO easy to use. I would easily unclip them with one hand and even when in public, it was so easy to use them under my shirt without snagging or tearing my clothes.
Fast forward to today (about a year and a half from when I first bought them) and I'm still wearing the same 3 pairs of momma's shop bras.
In fact, I'm wearing the pink one right now as I sit on my couch writing this review, with my little10 month old cutie (she's a girl!) to the left of me :))))
After wearing them for a year and a half, the bras are definitely showing some wear, but it's nothing compare to any of my other bras.. In fact, I've never had a bra last this long in the past (probably partly because I got a 3 pack)
The color hasn't faded at all, the padding still feels fantastic (did I mention it's sewn in??) and the elastic underwire still feels just as supportive as it once did. The only signs of wear is some of those fuzzy things you get on cotton clothes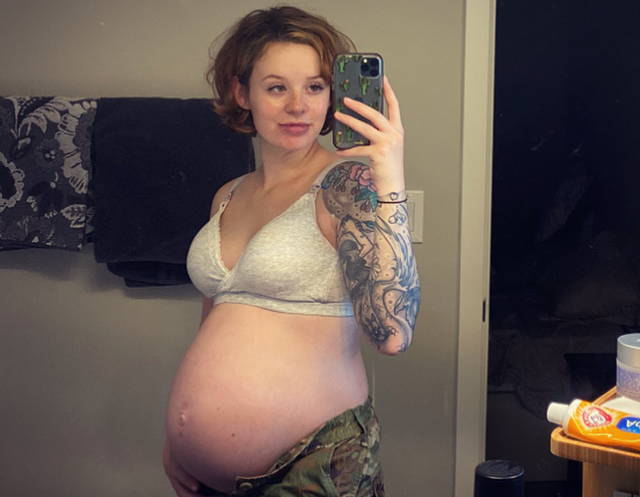 On Sale For This 4th Of July Weekend, With Very Limited Stock
To this day, I'm still surprised I was able to buy 3 of these for only $39.95 during their new year's sale. My other bras (at least the ones I liked) cost me at least $50-$60 EACH and none of them would've lasted as long as momma's bras OR would've been able to fit throughout my pregnancy.
So within the year and a half of exclusively wearing momma's shop bras I must've saved at least $100 (and a whole lot of time) from not having to go back to the store over and over, get resized, buy a new bra and so on.
Because of my amazing experience with momma's bras, and since they're definitely cute enough to be worn as a "regular bra", I'll be buying another 3 pack when their 4th of July sale drops!
I got 3 for $39.95, they literally fit perfectly all pregnancy so I never had to size up, and they were spectacularly comfy.. I paid for these bras, but it's almost as if they paid me with all the time, money and discomfort I saved. Thanks Momma's Shop!
Nikki went from a 34C to a 36DD and back to a 34C throughout her pregnancy. Momma's shop bras fit her perfectly the entire time and they'll do the same for you too.
Come join Nikki today and grab 3 bras that'll last you throughout pregnancy, postpartum and years beyond for only $39.95!